When it comes to online marketing content, there are lots of options to choose from. Depending on your business, though, you may be looking for content that's a little more substantial than the average blog can handle.
Enter the white paper. 😎
If blog posts are the popular kids in the marketing content world, then white papers are the nerdy guys with glasses and pocket protectors. 🤓
They may not be as easy or fun to read as blog posts, but they more than make up for that with their persuasive, data-driven informational content. And that can be a powerful tool for your brand. 💪
If you're ready to start on your white paper, we've got everything you need to create a great one. Keep reading for white paper examples, white paper design and formatting tips, and more.
What Is a White Paper?
You may be used to writing blog posts, but white papers are in a league of their own. 🏆 Here's what defines a white paper:
More technical and in-depth than blogs or ebooks
Longer than most other content types (at least 5-6 pages)
Explores a very specific topic, its problems, and its solutions
Provides facts backed by data, research, statistics, etc.
More of an educational tool than a sales pitch
In other words, white papers are long-form informational reports about an industry-relevant topic.
The purpose of white papers
The whole point of white papers is to address a problem in your industry and provide solutions that will help your customers. But what's in it for you? Here are just a few benefits:
Generate leads and influence sales. Most white papers require an email address or other information from the reader. Additionally, clients and customers are more likely to work with you if you're portrayed as an industry expert. 🧐
Show your expertise. White papers help establish you as an industry authority. They show that you're experienced, knowledgeable, and intelligent.
Increase consumer trust. Appearing as an industry authority can help build employee and consumer trust.
Who should use a white paper
Some of the most common entities using white papers are businesses, politicians, and tech industries. But that doesn't mean white papers are limited to these fields. In fact, anyone or anything involved in content marketing can use white papers. This includes:
Startups and established companies
Marketers and salespeople
Engineers and technology specialists
Educators and educational entities
Governments and non-profits
Insurance and financial industries
Types of white papers
Not all white papers are created for the same reason. There are many types to choose from, including:
Background / explanation: These papers explore your product or solution in minute detail.
Problem / solution: These papers present a common industry problem along with a tested solution.
Case studies: These papers look at your business and discuss how certain procedures, technologies, or methods affect your work.
Research: These papers summarize important data and statistics.
Who's got two thumbs and an awesome white paper?
It's you! (When you work with Epiic.) 😉
9 Effective White Paper Examples to Learn From
Never written a white paper before? Not a problem! 😎
Even if you're a pro at this type of content, having a stellar white paper sample for your next project can still be useful. Below you'll find nine industry-specific examples to help you get inspired.
Business white paper example

Our first white paper sample comes courtesy of Cisco. This paper combines engaging content with modern visuals to describe a problem and the ideal solution. It's a great example of a white paper that's selling a business pitch without being too pushy.
What stands out: 🚀
The recurring lock and arrow motifs tie the paper together.
The engaging color scheme invokes feelings of trustworthiness and expertise.
Various fonts, sizes, and colors help break up the pages.
Technical white paper example

Our next example (from Hitachi) nails the standard white paper look. With a minimal color scheme and limited visuals, this paper showcases how powerful a no-frills approach can be.
What works:
The well-organized layout and Table of Contents make it easy to find info.
Though text-heavy, the paper breaks information up into easily readable sections.
It clearly and methodically lays out the benefits of HCP systems.
Social media white paper example

Aetna, a health insurance company, is responsible for our next example. This stunning white paper is everything we're looking for in online content: relevant, engaging, emotional, and useful. Unlike some of our examples, this paper caters to a wider range of readers, which can help it gain more exposure.
Our favorite takeaways: 😍
Keep your credits and footnotes front and center.
Turn your white paper into a story to engage your readers.
Utilize experts in the field to increase readers' trust.
Marketing agency white paper example

Sungard Availability Services' white paper tackles disaster recovery plans in this example. It also educates readers on how to choose the best plan for their business. Though relatively short, this paper packs a punch. Luckily, a smart layout, whitespace, and straightforward content keep things from being overwhelming.
Other reasons it works:
The design mimics the logo, creating a subtle connection.
The 4 steps are easy to identify and understand.
It offers the audience additional reading and other CTAs.
Pharmaceutical white paper example

Communication company 60 Seconds talks about the future of sales coaching in this great example of a white paper. Again, this example tells a story — in this case, a story about lackluster pharma sales methods (and how 60 Seconds can fix things).
Get inspired by the:
Clean layout with plenty of white space on each page
Fun visuals that relate to the topic
Input from industry experts
Occasional quotes throughout the piece
Science white paper example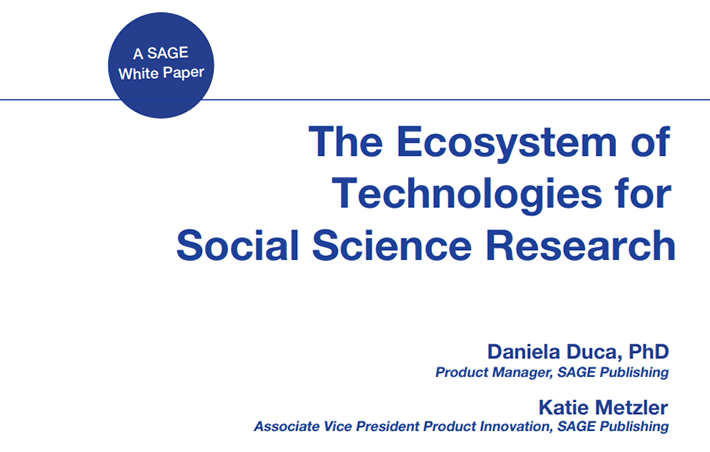 Just what you'd expect from a scientific white paper, right? This SAGE white paper takes an in-depth look at the different tools used for social science research. For such a large and complicated topic, SAGE does a great job laying out the problem, solutions, and information in a clear and easy-to-digest way.
This white paper makes great use of:
Various data visualizations
Different typography styles to assist in organization and flow
Highlighting important info to make it stand out
Engineering white paper example

This example by James Wood discusses the importance of white papers in engineering. Though it doesn't include any headings to help break up the blocks of text, we like how the content is formatted into columns for easier readability. Also, by writing in the first person, Mr. Wood makes his content more relatable and readable.
Take note of the:
Colored text that helps identify important quotes from the text
Interesting and relevant visuals
Easy to read, engaging content that anyone can use
Digital marketing white paper example

This marketing white paper by Rock Content is a great example of how a white paper can be both informational and fun! With plenty of colors, visuals, and readable content, this example is a nice resource for content marketers everywhere.
What we like:
In-depth information is well-organized with headings
Plenty of examples, links, and visuals throughout the piece
Several different CTAs spread throughout the content
Academic white paper example

This academic example takes a different approach to standard white paper specifications. It's light on the written content and heavy on the visuals. And we can't say that we dislike the result! The pictures and data visualizations help bring the topic to life and make it much more impactful than mere words ever could.
Also, take note of the:
Way that the paper tells a clear story
Use of quotes from various experts
Various ways that data is used to back up the authors' point
Get epic designs at Epiic prices. 😉
Check out our affordable design packages today.
White Paper Design: 5 Tips to Format Your Paper for the Best Success
Remember that old saying — no pain, no gain? 😎 That's kind of true with white papers. They're not the easiest marketing content to create, but they can really be worth it.
So, how do you create a white paper that will actually engage your audience? White paper design is the key because a bad design = an unimpressed audience.
When it comes to white papers, there may not be one set of specifications to follow, but there are some best practices you can use to enhance your design. Here are five important white paper format tips to keep in mind.
1. Be bold with your design
Don't be afraid to be bold with your white paper design choices!
Emphasize important information using design choices such as typography, color, size, and placement. This will help key info stand out. Just make sure your design works with your brand and paper topic.
2. Be liberal with visuals and color
We know it's called a white paper, but this is one of those times when you don't need to take everything so literally. A little bit of color? That's a good thing! 💪
One of the best ways to make your white paper design more engaging is by including dynamic visuals and colors. Doing so will render even the most serious topic more readable. Include high-quality graphics, pictures, data visualizations, and color. This will make people stop to look at your white paper. And once they start reading, those same things will (usually) keep them focused on your work till the very end.
3. Be consistent with design choices
No matter what you're writing about, it's important to keep your white paper design consistent with your brand and with your chosen topic. That means you should consider:
Who will be reading your paper
How serious (or unserious) your topic is
The intersection between your brand and the topic
Visuals, colors, typography, and other design elements should all fit neatly into the above bullets. For example, if you're a startup writing about your exciting new line of funny socks, don't be afraid to use bright colors and entertaining visuals. On the other hand, if you're writing a paper on divorce law (or a similarly serious subject), you may want to make different design choices.
4. Be smart about whitespace
As you've seen in the white paper samples above, this type of content contains a lot of information. It's easy to get overwhelmed by all the stats, sentences, graphics, CTAs, references, and credits, right? For a successful white paper design, consider your whitespace to keep things from getting cluttered.
5. Be responsive with the layout
When it comes to white paper format, remember that lots of your readers will be looking at your content on a screen — particularly a mobile screen. Take the time to ensure your white paper adjusts to different screens. That way, your readers will remember your white paper for its awesome design and not the eyestrain they experienced while reading it.
Ready for something really epic? 😉
How about affordable, unlimited, professional designs?
Ready to Read: Sending Your White Paper Out into the World
A lot of your white paper's success depends on its design, so why wouldn't you give it your best (or choose a great designer who can give it their best)?
Now that you've been inspired by some great white paper examples (and now that you've learned our best white paper design tips 🤓), you're ready to give it a go. Remember that producing a quality white paper is going to take time and effort, but there's no better time to start! Good luck!
May 03, 2022